Success Stories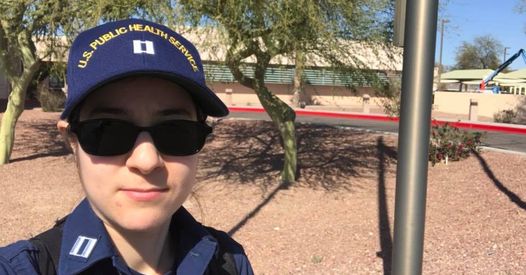 Female Veteran Gains Support to Assist Pharmacists Breaking Through Licensure Board Exams to Support the COVID-19 Pandemic
Being a pharmacist is arduous. It takes 4 years of doctorate level training, usually heavy loans to pay for the high cost of tuition, and regulations to ensure public safety. However, the hardest part of transition from student to professional is right after students graduate with their Doctor of Pharmacy (PharmD). The Florida VBOC's client, Maryam Khazraee, is in active duty with the U.S. Public Health Service's Commissioned Corps (the smallest branch of U.S. uniformed services, but one with great interest lately), and she has found a niche market and provides a valuable service.
Pharmacy students must first pass two board licensure exams to get licensed in their respective state where they plan to work. These exams are called the NAPLEX, a clinical national exam, and the MPJE, which is the state-specific law exam that every state has their own version due to varying state pharmacy laws. The issue in our current marketplace is the lack of state-specific MPJE guides. Either they do not exist or the ones that do are hugely expensive and outdated many years. Next, loans must be repaid. Finally, recent pharmacy graduates struggle to gain employment, as they lack understanding of how to get a job in the first place.
That is where RxPharmacist comes in. It supports students in this transition to help pass their licensure exams so they can gain employment as a pharmacist to work in their local communities. They also support students to gain employment by teaching them the 'how-to' of getting a job. This is not the basics of just writing a resume or networking. It is the proven strategies that are not learned in school but only learned through failures, wins, and years of experience.
When COVID-19 hit, luckily it did not affect Maryam's business operations much. They were already futuristic, with 100% remote workers and summer internship programs from day one in utilizing video platform and further innovating their operations and online courses. However, COVID-19 did hit the many pharmacy graduates who lost their job offers such as fellowship programs due to companies cutting jobs. RxPharmacist knew it had to do something and immediately decided to triple the amount of hires they usually did for their summer internship program from two to eight! They also helped support them in gaining confidence and resources to land that first job offer after completing the summer internship. However, more importantly, they helped create new MPJE state guides that did not exist before for states such as Georgia and New York. This helps pharmacists pass their licensure exams the first time to gain employment to support the COVID-19 pandemic such as administering vaccines which many retailers such as Wal-Mart, CVS, Walgreens, and other pharmacy chains are hiring to help supplement the workforce to vaccinate more patients.
The VBOC assisted RxPharmacist in helping clarify the business model through using the LivePlan subscription and assisting the business strategy to assist in newer product features to help support their niche customer base. This also helped RxPharmacist make a bigger impact such as pushing more licensed pharmacists into the community, which is desperate to gain more healthcare providers to fight this COVID-19 pandemic. As RxPharmacist is continually evolving with providing more value in supporting the healthcare of our society through education of pharmacists, we are excited to continue to work with the VBOC to expand our scope soon through creation of a more job coaching branch of the business so students and pharmacists can gain the techniques and confidence to land their dream job right out of school.
About RxPharmacist: RxPharmacist is a woman-owned military veteran company that is focused on creating high quality, up-to-date, and affordable study guides for pharmacists and pharmacy students to help pass their board licensure exam. LinkedIn    Facebook