Female Veteran Gains Support to Assist Pharmacists Breaking Through Licensure Board Exams to Support the COVID-19 Pandemic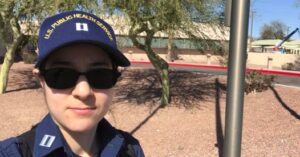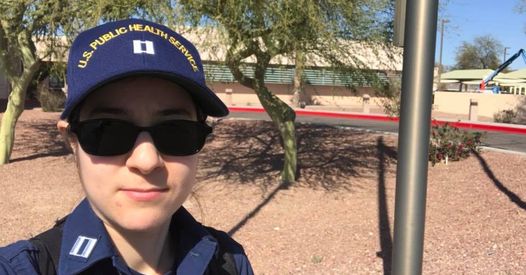 Being a pharmacist is arduous. It takes four years of doctorate level training, usually heavy loans to pay for the high cost of tuition, and regulations to ensure public safety. However, the hardest part of transition from student to professional is right after students graduate with their Doctor of Pharmacy (PharmD). The Florida VBOC's client, Maryam Khazraee, is active duty with the U.S. Public Health Service's Commissioned Corps (the smallest branch of U.S. uniformed services, but one with great interest lately), and she has found a niche market and provides a valuable service.
The VBOC assisted RxPharmacist in helping clarify the business model through using the LivePlan subscription and assisting the business strategy to assist in newer product features to help support their niche customer base. This also helped RxPharmacist make a bigger impact such as pushing more licensed pharmacists into the community, which is desperate to gain more healthcare providers to fight this COVID-19 pandemic. As RxPharmacist is continually evolving with providing more value in supporting the healthcare of our society through education of pharmacists, we are excited to continue to work with the VBOC to expand our scope soon through creation of a more job coaching branch of the business so students and pharmacists can gain the techniques and confidence to land their dream job right out of school. Read More.
About RxPharmacist: RxPharmacist is a woman-owned, veteran company that is focused on creating high quality, up-to-date, and affordable study guides for pharmacists and pharmacy students to help pass their board licensure exam.   LinkedIn | Facebook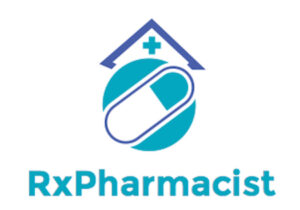 ---
Joshua Bass, service-disabled veteran with a background in Army logistics management, formed Final Legends Decontamination, LLC. with the guidance from Florida VBOC
Joshua Bass first contacted the Florida VBOC for help in formalizing his company in Florida. He is a service-disabled veteran with a background in Army logistics management. He had been doing car detailing on the side for several years but having now moved to Miami, he wanted information about a microloan to expand his business. In the process of taking these first steps, he recognized the opportunity to pivot to offering COVID-decontamination services instead. He purchased the equipment and products needed to do the work and created a new LLC, following our guidance and our Florida Start-up Checklist and formed Final Legends Decontamination, LLC. We also pointed him in the direction of a small minority business-focused micro lender operating through the Miami Chamber of Commerce.
Through a contact, he heard about a large residential /commercial center that could use his services and approached them with the idea of using his services. Stressing his veteran business status with our encouragement, he got his foot in the proverbial door. However, he did not know how to approach doing a bid. He had experience working construction outside of military service and understood the concepts of using the square footage of the premises to spec the materials and estimate time and labor like he had seen in doing roofing or laying carpet. Following our directions, he was able to determine a pricing structure, put together the bid, and submit the documents required by the client. He has submitted a substantial bid but has not received acceptance. Even if he does not win this bid, he has a much better understanding of how to do work estimates and has identified other potential clients for his services. Josh's energy and enthusiasm exceeded his ability at the start, but he has taken our directions and run with them. He was amazed that our services were free and call us "his business fairy godmothers".
---
RSAE Labs Succeeds in Obtaining at PPP Funding with the Help of the Florida VBOC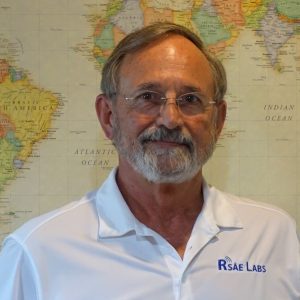 RSAE Labs is a small leading-edge logistics technology and engineering systems integrator based in Panama City, Florida. Chief Executive Officer, Randall Shepard, is a retired Air Force officer. The company's Chief Technology Officer, Chief Scientist and several key employees are also all US military veterans. Although government contracting has been a stable source of business for RSAE Labs, a significant portion of its revenues come from the private sector, specifically from European-based logistics customers. The global shutdown of production in China significantly impacted the European market well before the US logistics shipments worldwide, prompting the cancellation of the substantial equipment contracts orders and tracking services RSAE Labs provides. Additionally, when Florida schools closed, company employees with children were forced to reduce their hours significantly and try to work part-time at home.
RSAE Labs leadership was determined to lessen the stress on its employees by continuing their regular pay and benefits despite the drastic reduction in the company's revenues. On April 7, RSAE Labs submitted an application for the Payroll Protection Program (PPP) loan from its corporate bank. After no response, the company sought counsel from the VBOC for alternative lenders. Our staff reached out to several banks with whom we have a working relationship. Only one offered a conduit to the PPP, Pensacola Florida-based Community Enterprise Investment Inc, a CDFI and small business lender focused primarily on supporting minority-owned small business. Through CEII VP Grover Brown, RSAE Labs was directed through a loan broker to Northeast Bank. Almost a month to the day, RSAE Labs received the full amount requested.
"We are so grateful for all the assistance we've received from the Florida VBOC in the past and especially now. The PPP loan will allow us to retain all of our employees as we pivot to develop an entirely new mesh-based and highly-secure reliable personal physical distancing social distance monitoring technology very much in demand by large manufacturing and industrial companies here in the US and abroad."
Randall Shepard, USAF retired and CEO, RSAE Labs, Inc., a veteran-owned small business.

~~~~~
Harmony Vending, Inc., Continues to Service Clients During COVID-19 Situation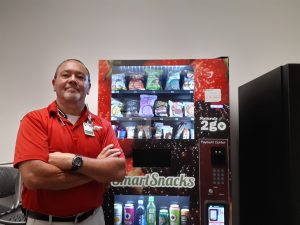 Raul A. Morales is a retired U.S. Air Force veteran living in Laurel Hill, a small town near Fort Walton Beach in Okaloosa County, Florida in an area populated by a two active Air Force bases in Okaloosa County (Eglin AFB and Hurlburt Field), an Air Force Reserve base (Duke Field), and an Army base (7th SOF Group). His business, Harmony Vending, Inc., has been operational since 2016 and services all of those installations except Duke Field. The Florida VBOC began working with Raul in January 2020 when he saw the need to expand his operations and needed help with budgeting, managing cash flow, and securing additional funds for more equipment. VBOC business consultant, Janice Benggio, recently contacted Raul to see how his business was holding up amid the COVID-19 situation and to make sure he was aware of relief programs, Paycheck Protection Program, (PPP) and Economic Injury Disaster Loan (EIDL) loans. As it turns out, Raul was fortunate to receive $2,000 from the EIDL program. After closing out his April books, he is shy of his anticipated gross sales goal by only 25%. The EIDL proceeds will help him sustain his business as he continues to serve his customers and consider opportunities for further sustainability. Raul stated, "Turns out that vending at the military bases is an essential business, so I've been able to continue at about 75% capacity through the crisis. Some locations have been shut down, but others, like dorms, have picked up significantly. Off-base is a different picture. I have a location with three machines that have residents and medical staff, and it has maintained with no drop. The rest of the locations have laid down flat, or are slow to sporadic. All in all, I am pleased with the fact that I'm still servicing machines." Raul added, "I have been keeping up with all the info you guys have been sending, very much appreciate that! Since I'm USAF retired, I still get paid and felt the best thing to do was use the EDIL and not the PPP. Again, thank you for keeping us informed."
~~~~
Bravo Cleaning Services, Bradenton, Veteran Owned Business, VBOC FL Client