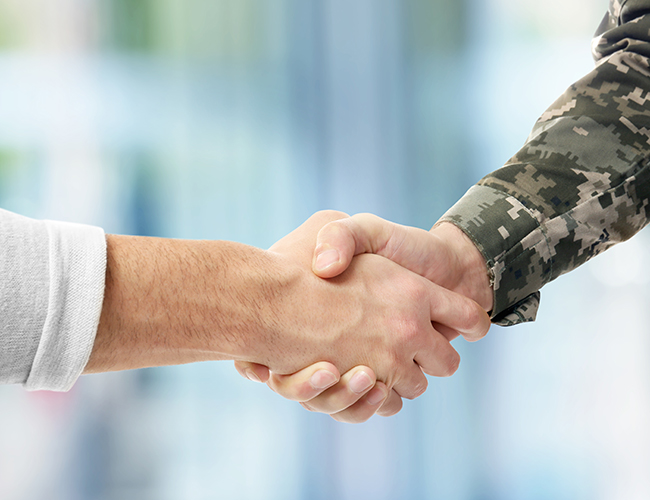 3 Ways A Strong Network Can Help Your Veteran Small Business
Whether you're starting or growing a small business, equipping yourself with a strong network will help you every step of the way. Here are three ways a network of knowledgeable people from different backgrounds can aid the success of your business – and how SBA can help you grow that network.
1. A Second Opinion
One of the most valuable ways a network can help you on your journey is by providing an informed second opinion on big business decisions. SBA has many resource partners that can provide entrepreneurial guidance. One example includes SBA's SCORE mentors who have helped many veteran and military spouse entrepreneurs navigate issues from developing business plans, to sorting out the best brick and mortar location, and much more.
2. Word of Mouth
SBA can help you connect with individuals who, in turn, can introduce you to other professionals who will support you in setting up your business for success. This can be especially helpful if you're looking for employees, contractors, or partners, as these contacts have already been vetted from a trusted person. A great place to start is with your local SBA District Office, VBOC, or Small Business Development Center (SBDC).
Not everyone in your network will be able to provide mentorship or strategic introductions, but they may still be able to help promote your business to their contacts. Don't be afraid to ask, to share readymade promotional materials, and to do the same for them!
3. Supporting You, The Entrepreneur
Being self-employed can be unpredictable, but a strong network of peers in entrepreneurship can help by offering perspective and validation. Your local SBA District Office, VBOC or SBDC can help you find other veteran or military spouse entrepreneurs who also understand your military background. SBA's Women's Business Centers can also connect you with mentors and resources to help you navigate the unique challenges of growing your business as a female entrepreneur.
No matter which resource you use, SBA's Office of Veteran Business Development (OVBD) is dedicated to making sure veteran, service member, National Guard and Reserve member, and military spouse entrepreneurs have what they need to succeed on their business journeys. OVBD understands your military background and works with external partners like the Department of Defense, the Department of Veteran Affairs, and others to help you.
Learn more about OVBD and its resources to help your business flourish.
This blog was originally written by the U.S. Small Business Administration's Office of Veterans Business Development. To learn more about OVBD visit, sba.gov/ovbd.
May 26, 2023
The Florida Veterans Business Outreach Center is funded in part through a Cooperative Agreement with the US Small Business Administration. All opinions, conclusions and/or recommendations expressed herein are those of the authors and do not necessarily reflect the views of the SBA.