RSAE Labs Succeeds in Obtaining at PPP Funding with the Help of the Florida VBOC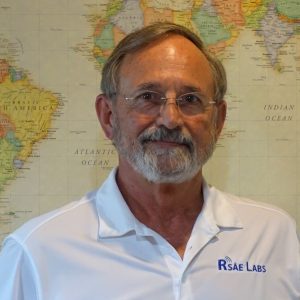 RSAE Labs is a small leading-edge logistics technology and engineering systems integrator based in Panama City, Florida. Chief Executive Officer, Randall Shepard, is a retired Air Force officer. The company's Chief Technology Officer, Chief Scientist and several key employees are also all US military veterans. Although government contracting has been a stable source of business for RSAE Labs, a significant portion of its revenues come from the private sector, specifically from European-based logistics customers. The global shutdown of production in China significantly impacted the European market well before the US logistics shipments worldwide, prompting the cancellation of the substantial equipment contracts orders and tracking services RSAE Labs provides. Additionally, when Florida schools closed, company employees with children were forced to reduce their hours significantly and try to work part-time at home.
RSAE Labs leadership was determined to lessen the stress on its employees by continuing their regular pay and benefits despite the drastic reduction in the company's revenues. On April 7, RSAE Labs submitted an application for the Payroll Protection Program (PPP) loan from its corporate bank. After no response, the company sought counsel from the VBOC for alternative lenders. Our staff reached out to several banks with whom we have a working relationship. Only one offered a conduit to the PPP, Pensacola Florida-based Community Enterprise Investment Inc, a CDFI and small business lender focused primarily on supporting minority-owned small business. Through CEII VP Grover Brown, RSAE Labs was directed through a loan broker to Northeast Bank. Almost a month to the day, RSAE Labs received the full amount requested.
"We are so grateful for all the assistance we've received from the Florida VBOC in the past and especially now. The PPP loan will allow us to retain all of our employees as we pivot to develop an entirely new mesh-based and highly-secure reliable personal physical distancing social distance monitoring technology very much in demand by large manufacturing and industrial companies here in the US and abroad."
Randall Shepard, USAF retired and CEO, RSAE Labs, Inc., a veteran-owned small business.

~~~~~
Harmony Vending, Inc., Continues to Service Clients During COVID-19 Situation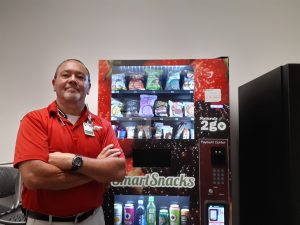 Raul A. Morales is a retired U.S. Air Force veteran living in Laurel Hill, a small town near Fort Walton Beach in Okaloosa County, Florida in an area populated by a two active Air Force bases in Okaloosa County (Eglin AFB and Hurlburt Field), an Air Force Reserve base (Duke Field), and an Army base (7th SOF Group). His business, Harmony Vending, Inc., has been operational since 2016 and services all of those installations except Duke Field. The Florida VBOC began working with Raul in January 2020 when he saw the need to expand his operations and needed help with budgeting, managing cash flow, and securing additional funds for more equipment.VBOC business consultant, Janice Benggio, recently contacted Raul to see how his business was holding up amid the COVID-19 situation and to make sure he was aware of relief programs, Paycheck Protection Program, (PPP) and Economic Injury Disaster Loan (EIDL) loans. As it turns out, Raul was fortunate to receive $2,000 from the EIDL program. After closing out his April books, he is shy of his anticipated gross sales goal by only 25%. The EIDL proceeds will help him sustain his business as he continues to serve his customers and consider opportunities for further sustainability.Raul stated, "Turns out that vending at the military bases is an essential business, so I've been able to continue at about 75% capacity through the crisis. Some locations have been shut down, but others, like dorms, have picked up significantly. Off-base is a different picture. I have a location with three machines that have residents and medical staff, and it has maintained with no drop. The rest of the locations have laid down flat, or are slow to sporadic. All in all, I am pleased with the fact that I'm still servicing machines."Raul added, "I have been keeping up with all the info you guys have been sending, very much appreciate that! Since I'm USAF retired, I still get paid and felt the best thing to do was use the EDIL and not the PPP. Again, thank you for keeping us informed."
~~~~
Bravo Cleaning Services, Bradenton, Veteran Owned Business, VBOC FL Client